Blogtown
5-17-2013: For Better or for Worse
After hearing Jason Dill and AVE quit Alien Workshop, you wonder what other big moves could be made in 2013 and what is coming from these moves... well now we have EVEN MORE to speculate! Brian Anderson just released this Press Release announcing his departure from GIRL Skateboards...
In non leaving news, Andrew Cannon is BACK! Following a knee injury, Andrew is back to near full health and is back on his board. Check out this clip from World Industries of Mr. Cannon skating Caesar Chavez Park
The new video project from Heroin Skateboards, Video Nasty, is nearly done. Video Nasty will feature new footage of Daniel Shimizu, Gou Miyagi, Deer Man of Dark Woods, Chet Childress, Rogie, Tom Day, Stephen Malet, Craig Questions, Adrian Adrid, Casper Brooker, Fos, Chopper and the Osaka Daggers. Heroin will be releasing a new trailer (featuring a different rider) every week up until the release on July 1st. Here is Trailer Number 1
KYLE WALKER IN COLOR FULL PART is now up at the Thrasher site. I figured i'd yell at you in all caps because it's a must watch
Also over on the Thrasher site, check out Ben Raybourne Blowin Out the Spot for Independent Trucks
Transworld has photos from this years Transworld's Hall of Fame induction ceremony
Braxton Powers is the latest Video Check Out over at TWS today...
Quartersnacks put their editing skills to work on some existing Forest Edwards footy and came out with this $10 Meals Re-Edit
5-16-2013: Reason for Living
Here's something I think a lot of us have always wanted to find... An abondoned waterpark perfect for skating. Watch Justin Brock, Dan Plunkett, and Patlanta skate some insane terrain....
Also on the Thrasher site, another classic is unvaulted from Santa Cruz and it's another Jim Thiebaud gem...
Tony Hawk sits down and talks about his latest coverage in The Skateboard Mag
A couple of the KR3W flow bro's Kirby and Lawyer get down at the TF in this park edit of KR3W KLIPS
Another classic is online for your viewing pleasure, as if we haven't all watched this one a hundred times before, but hell I have no objections to another watch today... Reynolds in 'This is Skateboarding'
Welcome to the team video/interview with Derek Fukahara from World Industries....
Here is a rad clip of the CONS guys including Nick Trapasso from their trip to hawaii that was featured in Transworld
Keep A Breast is raising funds for their traveling education booths and we're trying to help! We've set up a spot where you can donate $2 which will in turn end up educating 100,000 on how to prevent and early detect breast cancer! It's super simple to donate, and you can do so right here..
5-14-2013: Realize and Act
REAL always has something going on with their Actions Realized campaigns and this time they've teamed up with Green Day to help the Children's Hospital in Oakland. Head to www.ActionsRealized.com for more info
Two of Arizona's gnarliest, JAWS and Ryan Reyes have their BONES Un-Cut edit from the New Ground video up on the BONES site now
Ray Barbee has some photos from his weekend in Coachella last month.. pretty random, i know, but Coachella thru Ray Barbee's lens seems cool to me
One of the most consistant tech skaters of our current time has the latest Thrasher Firing Line... Luan Oliveira
This dude has an enviable sticker collection.. Skate nerd sticker collection on Jenkem
I blasted this on our facebook the other day, but i'll do it again here... Skate After School... Help get some kids into skateboarding!! Nothing's cooler than knowing you helped a kid's skateboarding interest get sparked and change a life... Check out their insta right here and if you have anything you'd like to donate feel free to bring it by the shops!
This Saturday coming up is our Goodyear Skate Fest. We're teamed up with AZPX and the city of Goodyear to bring you a demo, best trick contests, and more... get all the info here.
5-13-2013: Back to Business
I'd say i'm sorry for going a whole week with nothing for you, but i'd be lying because that time off from the internetz was awesome. Lets get filled in from the weekend...
The Vans Pool Party at Combi this weekend out in California which some of the boys went out to watch.. check RIDES edit from the event here
Ben Nordberg was 'Recruited' over at the Berrics which I have for you here and also on the Berrics site this weekend Ben Fisher had a sweet little 'Bangin'. Hop over to The Berrics now to check that and more. You know, now that I think of it, I remember some cool Joey Brezinski contest and some ridiculous Chris Cole clip too, just head to The Berrics and mope around for a while then check the rest of these links...
Our good buddy Andrew Cannon wants to help you dial in those pesky 360 flips...
Also on the TSM site, you can help save one of the most famous skate spots across the pond and enjoy some skating...
If you still haven't seen Clint Walker's new part then your Monday is about to be awesome. Ambiguous gave us their entire new video for free over on the Thrasher site... Clint has last part...
Jenkem Mag edited down a ton of classic Ali Boulala stuff into a 5 minute Ode to Ali...
The nicest and nicely sponsored Theotis has this weeks 'Weekend Buzz'....
Coming up this weekend out in Goodyear is the Goodyear Skate Fest 2013 out at Goodyear Skatepark. Get all the details here...
5-9-2013: Out of Order
Yeah, well, uhhhh, it's my birthday and i'm refusing to work. No fun stuff to look at. Go skateboard instead.
5-7-2013: Taco Tuesday
The Onion has a great article about amatuer skateboarders today.. check it out right here
Jenkem Mag, which is a great boredom killer online mag, has something i'm sure you can relate too with this 7 people you will encounter at your skatepark article
This dude, Shaun Gregoire, has been in Phoenix hanging out for a couple weeks now and he absolutely rips. Check out his part from the Belly of the Beast Video. So good!
If you guys dig Richie Jackson's brand of skateboarding and some comedy on the side then your in for a treat. Richie has a new show up "The Amazing Richie Jackson Skateboard Show".
5-6-2013: Danny Barrera Throwaways
Danny is good, Danny is really good. Here is some stuff he's been sitting on for the last little while and wanted to get out to the interwebz... ya know, to make room for all this new Cowtown footage coming for the welcome video. Our team recently got a facelift with the additions of Steven Snyder, Andrew Forrest, CJ Bartlett, Donovan Nearing, Danny B, and Hayden Burns.
5-5-2013: Cinco de Mayo Weekend Fun
This weekend LE and Element came out to Scottsdale and we skated The Wedge Hubba for a few hours before hitting the shade and BBQ'n dogs and chillin with the crew. Nick T, Tony Tave, Nick Garcia, Julian Davidson, Blue Heady, Ethan Loy, Sinner, Levi Brown, and more were throwing it down and of course the locals had to get in on the action. Check out a ton of photos that Blue Hernandez has up on his blog at www.Blue731.com
After the session Saturday, Trapasso and Trent talked a while and then Nick came up and surprised Danny Barrrera who was killing it all day with 4 words, you're on Cowtown, B. Congrats and welcome to the team Danny!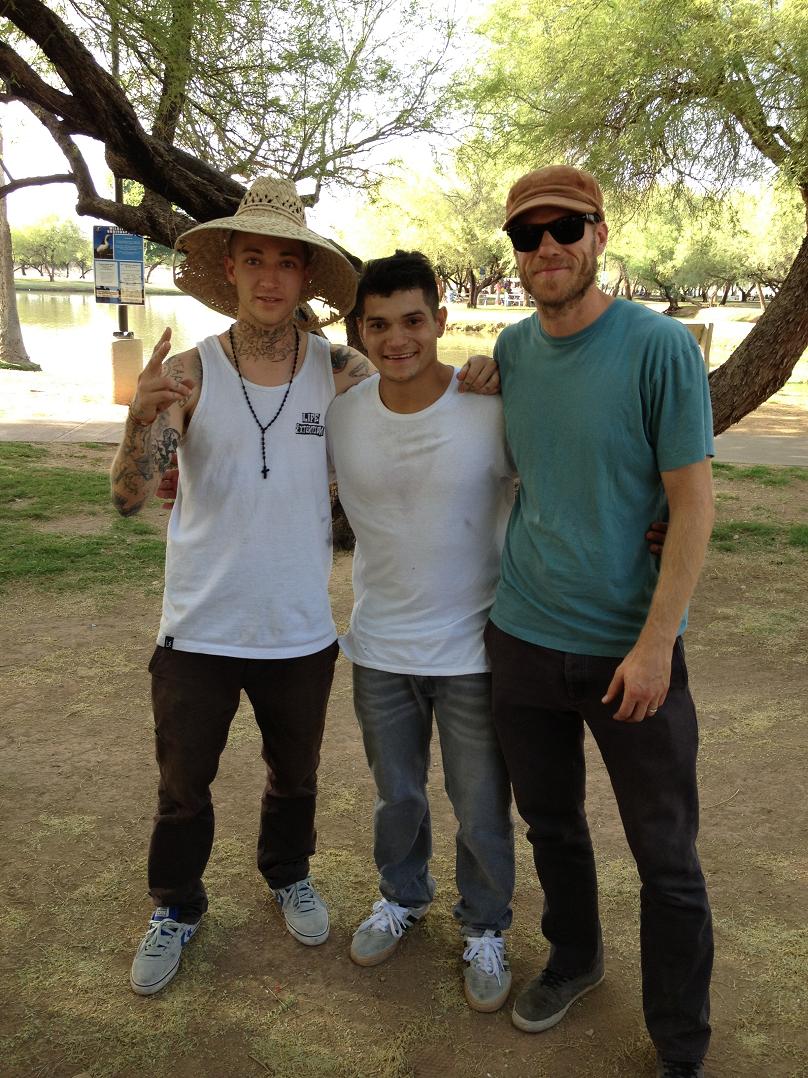 5-2-2013: Meet the Lurkers...
Looks like Lurkville is hard at work on a video coming out soon and heading up the skate effort is our buddy and former Cowtown employee Dylan Messer. Watch him battle this rail in the trailer for Meet The Lurkers... Here's a spoiler - he wins. Maybe not the way he wanted to beat the rail though. Dylan in Meet the Lurkers
5-1-2013: May 1st, A Fresh Start?
The SLAP forums are all abuzz today with the fresh off the press news of AVE and Jason Dill putting in their 2 weeks over at Alien Workshop. What could be in the works?! I'm excited to see what comes of this. Read all about them quitting and what kids have to say about it right here... AVE and DILL QUIT
A good friend of the shop, Matt Price has a cool sequence up on The Skateboard Mag site featuring another good friend of ours, Ryan Lay with a classy and kinky 50-50 here... Ryan Lay via Matt Price
One of my new all time favorites, Wes Kremer, has a cool edit from the DC Embassy... Wes Embassy Edit
If you're tired of seeing street contests then this best trick contest in a gnarly bowl is right up your alley.... HI Adventure Best Trick
The brains behind companies like Real, Thunder, Spitfire and so on from the DLX camp and one of the best people in skateboarding gets put back in the spotlight in this Strange Notes Vault featuring Jim Thiebaud.... The Vault - Speed Freaks
Jim Greco's full part from the new Deathwish Video is online for free over at the Bakerboys site.... Greco - Deathwish Video
4-28-2013: Epic Battles
It's getting down to the nitty gritty over on the Berrics for the BATB contest. Moose and PJ Ladd just went head to head and it might be the longest game in the history of SKATE. Don't forget about the DC Teak Shoe at all our shops that have a ticket to the Berrics free with them and a chance for a round trip courtesy of DC.
4-27-2013: Transworld X Cowtown CUT Contest
Saturday the 27th we went out to Rio Vista park in Peoria with the TransWorld SKATEboarding guys for the TWS CUT contest tour. Young Jackson Ellis won our Prime C.U.T. award by sticking the steeziest 360 flip down the ten just as the Best Trick contest ended. He ended up rolling his ankle just a few minutes later, so get well soon Jackson! You rip! Our top three came down to Michael Eddy, Jalen Noel in second, and first place was Greg Dunagan.
4-24-2013: Couchlock Odyssey
4-22-2013: Weekend Fun
This past weekend we premiered the new Deathwish Video at our shop in Phoenix. The video was sick and we now have them at the shops. Jackson Casey also premiered his promo video for Pyramid Country this weekend at the Yucca in Tempe. That turned out to be a big party with performances by Snake Burner and Tom the Baby Couch and DJ Horsepussy spun good vinyl all night long. Here are some photos from the Deathwish premiere. The Pyramid Country Couchlock Odyssey video will be online soon and we'll post it when it's up.
4-19-2013: Christian Maalouf - Comfort Zone
Cowtown Team rider Christian Maalouf.. I'll let the skating do the talking. Enjoy....
4-16-2013: Lurkville in AZ
Our friends from Lurkville came out to this years PHXAM and hooked up with a couple locals including Marshall Winter and skated some of our favorite spots. Check out the edit right here.
Lurkville AZ 2013 from Lurkville on Vimeo.
4-15-2013: Stereo iPhone Edit
Raymond Molinar put up an iphone edit that has tricks from a bunch of the squad including our own Christian Maalouf.
Boyz2Men from Raymond C Molinar on Vimeo.
4-14-2013: Couchlock Odyssey
This weekend was busy out here in Phoenix, busy with skateboarding. The weather is absolutely perfect. Went out with some of the Pyramid Country guys and got to see some pretty serious tricks go down. If you want to see what i'm talking about, Jackson Casey and the boys from PYRAMID COUNTRY are releasing their first video for the brand, and it is premiering at the Yucca Tap Room in Tempe. Their making it what seems to be a spectacle with Tom the Baby Couch and SnakeBurner playing live and DJ Horsepussy spinning vinyl. It's gonna be 21 and up only but FREE to attend!
4-10-2013: THE DEATHWISH VIDEO
So psyched that it's finally here. April 19th at our downtown location we will be premiering the new Deathwish video behind the shop. We'll have just one showing at 8:30pm so be sure to catch the light rail on time!
4-9-2013: TWS Come Up Tour Announced
Transworld has a skate contest circuit cruising through the US and we've got a stop thats just been announced and it's headed to Peoria. Rio Vista skatepark will hold the contest, and registration is at 11am on Saturday April 27th. There are only 50 spots available, so be sure to get there early to secure a spot to skate. The event is free both to watch and to enter.
4-8-2013: PHXAM Recap, Weekend Battles
PHXAM is officially over for the year, and it's time to get back on the daily grind. If you skipped looking at everything that was going on all weekend, we've wrapped it all up in a quick overview right here. PHXAM wasn't the only thing going on over the weekend, Transworld also rolled out their newest video, Perpetual Motion which comes with a free years subscription to TWS Magazine. The video is now in our shops and you can pick up a copy online as well. Also over the the weekend, Eric Koston and Morgan Smith battled it out in The Berrics' BATB IV in one of the longest duels to date. I've gone ahead and hunted down an embeddable version of it for your viewing pleasure.
4-7-2013: RIDE- How Adriano Lachovski Won 1st Place
4-7-2013: Adriano Lachovski - 1st Place at PHXAM
We couldn't have asked for a better weekend out at PHXAM or for better skating from everyone who qualified yesterday! Adriano Lachovski from Brazil was a standout the entire weekend, and he kept it up today and took home the top spot winning $3,000! Second place went to our golden ticket winner Tyson Bowerbank, and 3rd went to hometown favorite from Chandler Arizona, Dashawn Jordan. Thanks to everyone who made this year a great turnout and a special thanks to our sponsors Vans, Skullcandy, Altamont, REAL, Bones Wheels, Bones Swiss, NEFF Headwear, The Skateboard Mag, Royal Trucks, Mob Grip, Pro-Tec Helmets, Nixon, and Thrasher!!! Go check out photos from the entire event right here!
4-7-2013: PHXAM After Party Presented by Altamont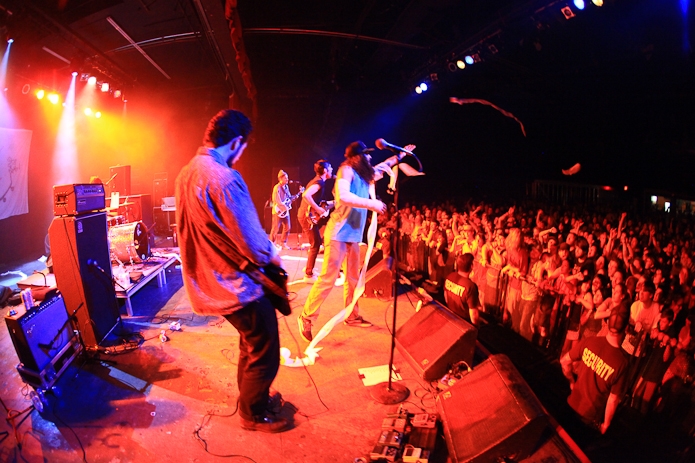 The PHXAM After Party Presented by Altamont was an absolute blast this year! Huge thanks to Altamont, The Black Lips, Andrew Jackson Jihad, Freaks of Nature, Destruction Unit, and everyone who came out to party with us!! Click here to see a bunch of photos from the night!
4-7-2013: PHXAM Finals Day Video from RIDE
4-7-2013: PHXAM Qualifiers Day Video from RIDE
4-6-2013: PHXAM Practice Day Video from RIDE
4-6-2013: PHXAM Park Set-Up and Practice Day
The last week we spent out at the park prepping Desert West hitting it with a fresh paint job, new coping, and 3 new rad obstacles including 2013's Skullcandy Best Trick obstace. Now the park is all set to go, and today was practice. Everyone showed up and put in a few hours of work in the sun. By the looks of it, this contest is about to be on a whole other level.


To check out photos of the build, and some flicks from practice day, click HERE.
4-6-2013: FOS x Cowtown Art Show
Tonight was rad seeing a bunch of you at our Tempe shop before the big weekend! FOS, Douglas Miles, and JJ Horner busted out on canvas all night as we helped ourselves to beverages and pizza and watched as magic went down on canvas. FOS hooked up some homies by gambling away some of his amazing art after the show was over. Click here to see more photos from the night!
4-5-2013: Road to PHXAM with Robbie Brockel
4-4-2013: Road to PHXAM with John Fitzgerald
4-3-2013: Road to PHXAM with Taylor McClung
4-2-2013: Road to PHXAM with Daniel Lutheran
All week long the RIDE Channel will be hitting us with a series of videos featuring past and present PHXAM contestants as they get ready to hit the road to Phoenix for the Cowtown's 12th Annual PHXAM Presented by VANS.
4-1-2013: April Fools Goodies
Its here, skateboardings favorite female sits down and answers all your SLAP PALS questions. Even I got a question in on this one! If thats not enough Active Erica for you, here's a little more... The DEATHWISH VIDEO was premiered over the weekend in LA, and Erica takes you with in this edit from the RIDE channel. We will have a premiere here in AZ as soon as we get a copy to show off!
Also, the BATB6 battles are heating up in the Semi's! You know the drill, Berrics doesn't hook up embed codes, so head over to www.theberrics.com to check em out.
3-28-2013: Blood Wizard X Adidas & the Erica Yary SLAP PALS Questions
April 1st is always tricky, you never know if what you are promised is going to be real or just a mean April Fools prank. Luckily, both the Blood Wizard X Adidas shoe release is real, and i've confirmed that SLAP PALS Questions with Erica Yary is actually coming out after months of heresay. If you're not a regular on SLAP, I don't even know if it's worth a watch, but if you lurk the boards, then you definitely have been waiting for this one. Enjoy!
3-27-2013: TSM Fresh Crops - Andy Wissman
This week's Fresh Crops on TheSkateboardMag.com is from a Phoenix transplant, Andy Wissman. Andy shoots a mean photo and lucky for us he has been skating with dudes like Alex Meyer, Scotty Laird, Jay Fairman, and a few others... Click here to launch the carousel.
3-25-2013: Marty on the Berrics
Head over to the The Berrics and check out another weekends worth of awesome battles in BATB6 Semi-Finals.. and make sure to check out the Damn It Marty! and Marty MFWTCB Remix!!
3-21-2013: The Evan Smith Experience
Evan Smith just turned PRO for Element and he has a new full length part out now. Watch it right here.
3-21-2013: Transworld x Cowtown Brick and Mortar w/Robbie Brockel
Transworld came to Phoenix and sat down with Robbie Brockel to talk about the shop see what we are all about. Check out this video piece they did with a good chunk of our team and some of our shop staff.
Cowtown With Robbie Brockel
Since opening in 1996, Cowtown Skateboards has been a staple of the Arizona skate scene, expanding from Phoenix to Glendale, Tempe, and Litchfield Park. By building a name as recognized as the pros and ams that have come out of the area, Cowtown is a model for what a skater-owned shop can be. Real's Robbie Brockel looks back at the shop that sold him his first complete.—Josh Brooks
What's the history of Cowtown?
Well, from my experience, that was the first shop I ever went to when I was a kid, where I got my first complete setup. All the employees were super cool, and they've basically made the skate scene in Arizona what it is now.
You worked there, how did that start?
I needed a job in high school. I started there when I was 16, like when I just got my license. I had been skating for them since I was 13 years old. It was kind of cool because all of the local kids would come in and hang out. I met a lot of people from working at the shop.
Who runs Cowtown?
Trent [Martin] and Ed [Cox] started it. Then Trent's married to Laura, and she's been a central part of the shop and the skateboard scene for a very long time.
What are some of the things that they did to grow the scene?
The first skatepark in Arizona—I call it Desert West; it's got like three names: Desert West, Phoenix Park, or Encanto—that all had to do with a huge local movement of getting that first skatepark put in Phoenix. That's where the Phoenix Am has been happening recently. They've helped to get a lot of money to have the park redone, as well. Now there are like 30 skateparks in Arizona, but that was one of the first..
For anybody who might not know, who are some big names that came through Cowtown…except for you?
[Laughs] First and foremost, Nick Trapasso. That's a pretty big name right there. He's been skating for Cowtown since he was a little kid, too. Mikey Burton, Cody Boat, who skated for Creature…all the guys on the team that people know through the local videos, too.
What are some of the Cowtown videos you grew up watching?
Sidewire and Every Day Is The Right Day. We gotta do more.
I remember Sidewire was the one with the Deaf Squad in it.
Oh, Deaf Alex. He and his buddy were both deaf skaters and they had a section with both of them that they called the Deaf Squad, and they had the automated deaf phone service voice speaking over their part. I still see Alex around.
Tell me how the shop got its name.
The first shop was in downtown Phoenix, which is still going. When they opened the store, it was in the space where an old store called Cowtown Boot Repair used to be. They didn't have enough money to buy their own sign, so they just kept the old sign and called the shop Cowtown. When they told me that's how they got the name, I was dying laughing.
Video Edited by Carson Lee. Filmed by Xavier Coleman, Marcus Ferguson, Sam Keeley, Hunter Oshea, Soda Gold, Mully, Brandon Steed, Lee Dupont
3-19-2013: P-Rod vs. Felipe Gustavo
The Berrics consistantly puts out content worthy of a watch, and when you have two tech wizards like PROD and Felipe Gustavo battleing in a game of skate you gotta hit the brakes and watch. Also if you head to their site, be sure to check out the 'Ev and Flow' video which is a lead up to the Evan Smith Experience video that is dropping on Thursday.
3-17-2013: Herman Bake n Destroy Outtakes
While we wait for the Deathwish Video to come out (hopefully beginning of April) we can sit back and watch Herman's outtakes from the Bake n Destroy Video.